Online safety at Home
As we are all spending more time online in the coming weeks, for many parents and carers online safety may be more of an issue than usual. It is hard trying to work from home as many of us are doing and occupy our home learners. Lots of us will be looking to online learning  tools to help educate and entertain our young people.
We will update this page as we come across links that can help you during this difficult time.
CEOP Think u Know #Online Safety at Home
This page has been created to direct parents to support during COVID-19 and the closure of schools. Each fortnight, CEOP will be releasing new home activity packs with simple 15 minute activities you can do with your children to support their online safety at a time when they will spending more time online at home.
There are a range of activities from early years to secondary.
Think u Know –  Home activity worksheets
Parent Info – From CEOP and Parent Zone
Parent Info is a collaboration between Parent Zone and NCA-CEOP, providing support and guidance for parents from leading experts and organisations.
House Party – What do I need to know?
Some useful advice from National Online Safety
"In the current environment, many of us are using different ways to try and keep in touch with our friends and family. One app that has risen in popularity is Houseparty, which gained the no.1 spot on the app store after becoming one of the most downloaded apps since social isolation was introduced. "
Click on the image below to download a pdf of this handy poster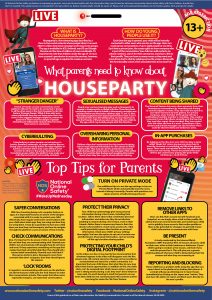 And finally, from Compare the Market, some information and advice on Screen time.

Have you been spending more time on your phone or laptop? The way we spend our time has been changing as a result of COVID-19. Whether it's during a lockdown or as we adjust to new norms, it's likely you've been spending more time on your devices.
The pandemic may have encouraged more screen-related bad habits, but the risks were always there. How does your time online make you feel? Are you able to switch off when you need to?
The time we spend in front of screens has a huge influence on our lives. Take control and ensure your digital devices have a positive impact on your life.
Click here to read the blog article.
Stay connected, Stay in touch. Stay safe