A day spent exploring the issues from a national and regional perspective. This strategic event in partnership with STC, LSCB and Northumbria Police is aimed at Head Teachers and Safeguarding Leads in schools. We will explore how children's online behaviour is changing and what we can do to protect them in our settings. Up to date intelligence will be shared on emerging patterns and we will explore what local and national initiatives are available to support our practice.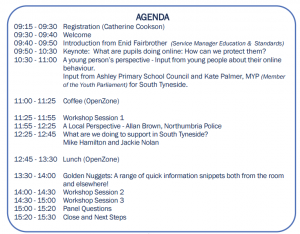 Resources from the Conference
Keynote
Keynote and Next Steps Presentation
Other Sessions
Kate Palmer (Member of the Youth Parliament) presentation
Presentation from Allan Brown Northumbria Police
What are we doing to support in South Tyneside
Workshops
Ofsted
Ofsted What are we supposed to be doing presentation
Keeping Children Safe and E-Safeguarding Mapping Document
Ofsted and E-Safeguarding Checklist
Top 10 E Safety Resources
Top 10 E Safety Resources Final
Risk and Behaviour (Kevin Murphy)
Click here for Kevin's presentation
Click here for the Digital home safety risk assessment tool.
Click here for the presentation Kevin used at Chadd Park
E Safety in the Primary Curriculum
Click here for  Ashley Primary School's presentation
Using Data to agree holistic approach
Click here for Ben's presentation
Policies and Procedures
Sample Internet Filtering Changes Log
How to deal with an E-safety Incident Flowchart
How to deal with an E-safety Incident Guidance