South Tyneside RTC CPD
Apple Teacher Programme
As an Apple Regional Training Centre, we are committed to developing the use of Apple
Technology in the classroom so that it can make a real impact on our children?s
learning.
Apple Teacher is a free professional learning programme designed to support and
celebrate educators using Apple products for teaching and learning. You can build your
skills on iPad, earn badges for the new things that you learn and eventually become
accredited as an Apple Teacher.
This term we will deliver two sessions at [email protected] which will help you start
earning your Apple Teacher badges:
Introduction to iPad
Tuesday 3rd March 4.00 – 5.30
iMovie For iPad
Tuesday 24th March 4.00 – 5.30
Click the thumbnail below for more Introduction: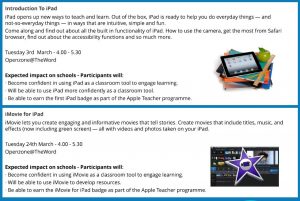 We are also running three events at Monkton Infant School this term:
iMovie For iPad
Wednesday 22nd January 4.00 – 5.00
Pages For iPad
Wednesday 12th February 4.00 – 5.00
Creativity With iPad
Wednesday 11th March 4.00 – 5.00
Click on the thumbnail below for more information: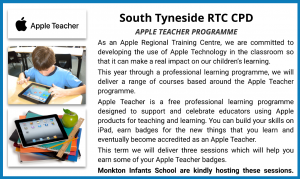 Come along and find out all about becoming an Apple Teacher.
Book your place by:
e-mail
[email protected]
or phone
0191 424 6336